Are you searching for somehobbies for womenthat you can enjoy?
If so, you're doing your mental and physical health a big favor.
We spend an average of about 23 hours a weekon email, texting, and social media.
That's a full day on your digital devices doing things that are often mindless or mind-numbing — not to mention the sedentary nature of using these devices.
Having some great hobbies can lead you toward developing a new skill, inspiring you to have a new passion, or simply just having fun.
We've curated a great list of hobbies for women that we think you'll really enjoy.
What's a Good Hobby for a Woman?
What if you spent your free time pursuing your favorite hobbies rather than surfing the net?
There are so manybenefits to having an actual, real-world hobby.
A good hobby for women is any activity that you enjoy and that affords one or more of these benefits.
Obviously, any physical or athletic hobby is going to make you stronger, more fit, and healthier in general.
But hobbies have many mental and emotional benefits as well.
When you perform your hobby, you're in that state of "flow" when time disappears, and you're completely present with the activity.
This flow state has been shown toreduce stressand provide a sense of well-being and happiness.
Also, any hobby that involves some level of challenge or concentration will improve your mental strength.
This is particularly important as we age, because the more mentally active we remain, the less prone we are to mental decline and dementia.
That's why we've included many hobbies for women over 50.
If you don't have a hobby now, or if you haven't practiced it in a long time, this list of ideas for fun andengaging hobbieswill help you choose the ones that suit you best.
We updated this list of 67 hobbies for women.
Fun Hobbies for Women
1. Traveling to New Places
Just behind reading, traveling is one of my favorite hobbies. I LOVE visiting new places (3 weeks in Colorado in 2017) and having adventures that are memorable and fun. Travel doesn't have to cost a lot of money.
You can visit state parks with inexpensive cabins, do a house swap with someone, or just go on a road trip to visit friends and family.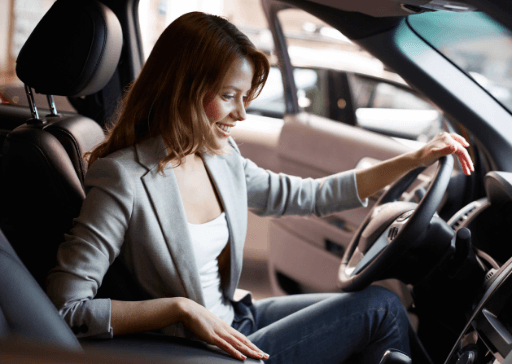 Getting out of your day-to-day environment and seeing new people and sites is enlightening, exciting, and loads of fun.
2. Adult Coloring
Adult coloring books have made a huge break-out in recent years, because, let's face it — coloring is fun. And it's a mindfulness activity that reduces stress and stimulates creativity.
We knew that when we were kids, and adult coloring books allow us to remember the joy with a book designed just for us.
There are so many styles of adult coloring books — from complicated mandalas to animals and florals.
3. Going to the Movies
With so many streaming sites like Netflix and Amazon, you might find yourself watching movies at home rather than going to the theater.
But remember how fun it is to go to the movies, sit in a darkened theater with your popcorn and drink, and watch a movie on a giant screen.
Create a movie group or club with other women, and plan to see a new flick every month. Then you can discuss the movie afterward and share your impressions.
Grab a Fandango gift card so you are inspired to go out to the movies rather than staying home.
4. Watching Interesting Documentaries
Netflix, Amazon, HBO, Hulu and so many more providers offer outstanding documentaries that are educational, entertaining, funny, and even scary.
Research a list of your favorite genres and where to watch them. Then invite a friend or two over for a documentary-watching binge.
Add a glass or two of wine, and call it the most fun hobby of the week!
5. Playing Board Games
Remember doing this onrainy daysor when you were bored as a kid? Once you started the game, it was so much fun you didn't want to stop.
Board gameshave always been fun and are a great way to spend time with friends and family.
If the game is slightly challenging, it keeps your brain active as well.
6. Listening to Music
Hobby ideas for women don't have to involve a hands-on activity. Most of us have a few different genres of music we listen to, but we rarely venture out to explore other types of music.
There are so many types of music and so many new musicians offering a huge variety of styles that could appeal to you more than you might guess.
Make it a hobby to check out a new artist or music genre every week, and focus on listening to a variety of songs within that genre.
One of the best places to find new music is on a streaming music service like Spotify or Apple Music.
7. Re-Selling Your Stuff
Do you have stuff around your house you don't use or need? Can you find items at a store that are deeply discounted that you could re-sell?
Have you created something that others might want to buy? You can make some great extra cash on the side by selling your own stuff or things you make or buy and re-sell at a mark-up.
Sites likeAmazon's FBA Program, Etsy, and eBay are great places to promote and sell your stuff with very little effort.
8. Learning Magic Tricks
Entertain yourself and your friends bylearning how to perform magic tricks.
From sleight-of-hand card tricks to spoon bending, these tricks will engage your brain as you practice them and impress those around you.
9. Putting Together Puzzles
Like board games, puzzles are activities we don't prioritize anymore because we have so many distractions.
But jigsaw puzzles help cognitive processes, improving your memory, creativity, and focus.
You can work on a puzzle by yourself or enjoy it as a group activity.
Interesting Hobbies for Women
10. Recording Audio Books
With more and more people listening to audiobooks, the demand forvoice talentto record the books is growing.
Why not turn this demand into a fun and potentially lucrative hobby for yourself? If you have a nice speaking voice and enjoy books, this could be a perfect opportunity for you.
或者你可以自愿heari读书ng impaired. Organizations that need your help include:
11. Researching Your Genealogy
Tracing your family roots is a deeply satisfying hobby that will serve not only you and your immediate family, but also your future relatives for years to come.
It involves organizational skills, research, and curiosity, and leads to more understanding of who you are and where you came from.
12. Creating YouTube Video

s

Are you an expert on something — like makeup, cooking, decorating, knitting, or some other interest where you can teach or help other people?

Why not try "vlogging" or video blogging? You can become the next YouTube sensation by sharing your interest or expertise.

It doesn't take much to enjoy this fun hobby — just your own personality, some useful tips for viewers, and a decent video camera.

If you have a good camera on your smartphone, you can start with that.
13. Playing Card Games
Years ago, my older sister taught mehow to play bridge, and we'd sit at the beach in the evenings and play for hours after dinner.
But there are dozens of fun card games that are easy to learn and engaging.
It's so much fun to have some friends over and just play card games. It doesn't require too much concentration, and you can enjoy a fun social evening with a bit of friendly competition.
14. Acting in Local Theater Groups
You don't have to be a professional thespian to take up acting. You might want to start withThe Aspiring Actor's Handbook: What Seasoned Actors Wish They Had Known.
Nearly every community has a local theater group or acting school. If not, create your own group.
Acting helps you communicate better, feel more confident in your speaking skills, and lets you meet new, interesting people. A good place to begin connecting with fellow actors is Meetup.com.
15. Butterfly Gardening
Don't you love seeing beautiful butterflies fluttering around flowers and gardens? You may not have considered butterfly gardening as a hobby, but why not create a unique garden that attracts various species of butterflies?
You'll need to learn the types of butterflies in your area, and abutterfly guidecan help you identify them. Then learn the plant species native to your area that attract local butterflies. You can ask at your local garden supply store.
After that,choose a placefor your butterfly garden that gets plenty of sun, shelter, and water. Then enjoy watching and tracking the butterflies that swarm your new garden.
16. Practicing Brain Training
We all want to keep our brains sharp and our minds working at an optimal level. Especially as we age, women need to work on training their brains to prevent memory loss and concentration issues.
If you begin the hobby of brain training now, you are protecting your brain and ensuring you stay mentally agile well into old age.
Begin your new hobby with one of the hundreds of free brain training apps on your smartphone. A few good ones include:
17. Doing Crossword Puzzles
If you love words and a little bit of a challenge, crossword puzzles could be the perfect hobby for you.
Solving crossword puzzles has been proven to have plenty of mental benefits, can cut dementia risks, and improve your vocabulary.
Crossword puzzles force you to engage and focus, putting you in a state of flow that is deeply relaxing and satisfying.
You can find large print puzzles fromBrain Games, with puzzles that get progressively more challenging as you work through the book.
18. Collecting Your Favorite Things
Collecting is one of the best hobbies for girls and women. In fact, it can be a perfect mother-daughter activity and afun pastime for relaxationand bonding.
It's a way of enjoying the aesthetic of whatever you'recollecting, as well as learning to appreciate history or antiques.
Simply the hunt for something — old books, rare stamps, figurines or beautiful art — is exciting and aninteresting hobby.
19. Journaling Your Thoughts
Journaling is a wonderful hobby for women as it allows you to chronicle your daily activities, thoughts, and feelings.
It's a good way to improve your mental health, your writing skills, and your self-awareness.
There are so many different types of journals — from one-line-a-day journals, journals with writing prompts, or completely blank journals that are unstructured.
You might enjoy mindfulness journaling which helps you become more centered, calm, and present in your daily thoughts and activities.
20. Couponing

to Save Money

Couponing is a hobby that's fun and that saves you a ton of money! If you're someone who enjoys finding deals, this is the hobby for you.

它涉及到公司的使用upons to purchase items at low prices by knowing how much an item normally costs, what price is the best deal, and how much to buy to last until the next sales cycle.

You can use coupons to save money by buying a stockpile of items so you don't have to pay full price when you run out of something.

If you don't know how to coupon like a pro, Ann Eckhart's book calledThe Beginner's Guide to Couponingis exactly what you need.
21. Museum Hopping
When you're searching for good hobbies for women to do together, museum hopping is an excellent option. Do you live in a city with a variety of museums? Why not make a habit of visiting one museum a month?
Learn about art, history, culture, science, fashion, nature, and so much more through various exhibitions and displays.
Grab a friend and make a day of it with a nice lunch and a walk around a beautiful building looking at the exhibits.
Outdoor Hobbies for Women
22. Tent Camping in Nature
You don't have to be Wilderness Woman to enjoy camping. There are so manybeautiful national and state parksin the U.S. that have well-equipped, safe, and affordable campsites.
Imagine a beautiful fall or spring weekend when the weather is temperate,sleepingin a tent near a stream or in the woods, cooking over a campfire, and just enjoying the peace of nature. Bliss.
23. Enjoying Birdwatching
An estimated 85 million Americans enjoy feeding, observing or photographing wild birds. Only one other hobby, gardening, has more fans.
All you need is a decent pair ofBird Watching Binocularsand a National Geographicbird field guideto get started. Or you can use a birdwatching app on your phone if you prefer.
You can enjoy it anywhere, at any time. And you can meet other bird enthusiasts in groups and meet-ups.
24. Inline Skating
Inline skating (also called Rollerblading) is a great way to get exercise and enjoy time outdoors. It improves core strength, balance, and coordination.
It's a low impact exercise that helps you lose weight and build confidence while having a great time.
There aremany types of inline skating, but if you're just getting started, you'll enjoy just cruising along at your own pace (special tricks not included).
If you have paved trails or parks nearby, grab a pair on inline skates, a helmet, and some pads, and enjoy cruising through the great outdoors.
25. Biking for Fun and Exercise
Biking is one of my favorite hobbies. It's great exercise, easy on your joints, and tons of fun. If you live in a community with some great trails, you might consider mountain biking.
There are plenty of easy trails that are simply beautiful all over the U.S. Try a good entry-level women's mountain bike or a women's hybrid bike for road or trail cycling.
26. Horseback Riding
Imagine sitting astride a beautiful horse, riding through a woodland trail or some other jaw-dropping landscape.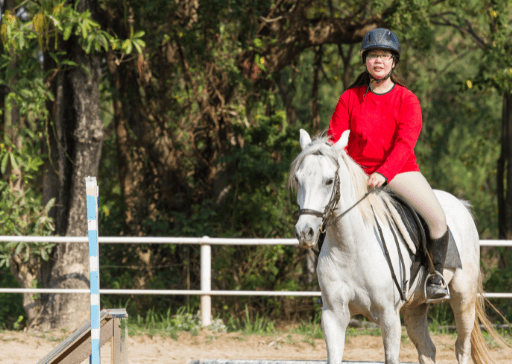 Riding a horse gets you outdoors and gives you that sense of freedom and adventure. It's also good exercise as it tones your body and can help you lose weight.
即使你u're a beginner, you can enjoy guided trail rides that are safe and slow.
27. Vegetable or Flower Gardening
Gardening also has emotional and mental health benefits — along with the physical benefits involved in digging around in your yard.
Gardening helps you connect with nature and the cycles of growth and decay.
Whether you plant flowers, trees, or vegetables, you'll get great satisfaction in seeing the fruits of your labor and enjoying sharing your bounty with others.
If you have a small yard as we do, you'll enjoythis gardening book.
28. Dog Walking
If you love animals and the outdoors, then dog walking is the perfect hobby for you.
Many animal shelters need dog walkers to volunteer and give their furry friends some outdoor adventure time.
If you don't want to own a dog but want the pleasure of spending time with one, you'll feel so gratified helping out a shelter and receiving the love and gratitude from a happy pooch.
You could also start a dog-walking business and provide your services for working or vacationing pet owners.
Arts and Crafts Hobbies for Women
29. Floral Arranging
Studies show that flowers have an immediate impact on happiness and emotional health.
So why not spend some time around flowers and create a beautiful arrangement at the same time?
Flower arrangements are wonderful gifts or great for decorating your own home.
30. Pressed Flower Crafting
Flower pressing involves drying flower petals and leaves that you find outside in a flower press.
Pressing flowers flattens them and can also change the flower colors, ranging from faded colors to a greater intensity of vibrant colors. It has long been practiced as an art form in China and in Japan.
The pressed flowers and leaves can be used in a variety of craft projects. They can be mounted on special paper, fabrics, or even wood furnishings.
An inexpensive flower press is a great tool to help you get started with this artistic hobby.
31. Writing in Calligraphy
Did you know that Steve Jobs based his first computer typography on thecalligraphy skillshe learned in college?
Calligraphy was regarded by Confucius as one of the "six arts," and is considered a way to refine one's temperament.
You can learn calligraphy for fun or to begin a small business designing cards and invitations.
32. Embroidery or Cross-Stitch
When you think about embroidery, you might imagine characters from a Jane Austin novel sitting around the fire while the menfolk are smoking cigars.
But embroidery continues to grow in popularity, and you can join an embroidery group to make it a social event.
It is a great hobby for dexterity, mental acuity, and creativity.Needlepoint is a wonderful way to relaxand create something beautiful at the same time — whether it's a pillow, hanging art, a handbag, or a Christmas stocking.
Cross-stitch is a type of hand embroidery in which the only stitch used is an x-shaped stitch or a cross-stitch.
33. Jewelry Making
My youngest daughter took up jewelry making in her teens, and I was surprised at the beautiful things she was able to create with some simple tools.
Just about any craft store has a variety of beads and wires for making jewelry, and you might enjoy going to specialty stores that have a bigger selection of interesting and more precious stones and beads.
This is a great hobby for creativity, and a great way to make your own gifts for people you care about.
34. Knitting or Crocheting
Like jewelry making, knitting and crocheting are creative crafts that are relaxing and fun. There are so many beautiful things you can make, even from the most basic stitches.
Both crocheting and knitting are mind-stimulating activities that are known to alleviate symptoms of depression and to help improve motor functions.
Both activities have a calming effect and give you a sense of pride, satisfaction, and accomplishment.
35. Designing and Creating Mosaic Art
I have a friend who creates the most beautiful mosaic art from sea glass, tiles, and bits of broken ceramics.
It's a great way to make use of materials that might otherwise be thrown away and allows for a very unique kind of creative expression.
You can make garden art, wall hangings, tile inlays, decorative platters, jewelry, or just about anything you can imagine.
36.贺卡制作
Remember when sending cards was something everyone did to mark an occasion orexpress your feelings? Now must of us use text or email.
Why not bring back the art of sending cards by making your own hand-crafted cards that are a real gift for those you care about?
Pinterest拥有数百beautiful ideasto help you get started with this new hobby. But you can make these ideas your own by selecting your ownsupplies, decorations, and colors.
37.绘画和绘图
When I turned 40, I discovered I had an ability to draw that I never knew I had.
You may think you don't have the creativity to paint or draw, but everyone is capable of improving their drawing abilities and becoming proficient as an amateur artist — or maybe even a professional.
38. Creating Ceramic Pottery
One of my blogging buddies learned to create ceramic pottery when she was in midlife. Now she is truly an artist, creating the most stunning pieces that she sells all over the world.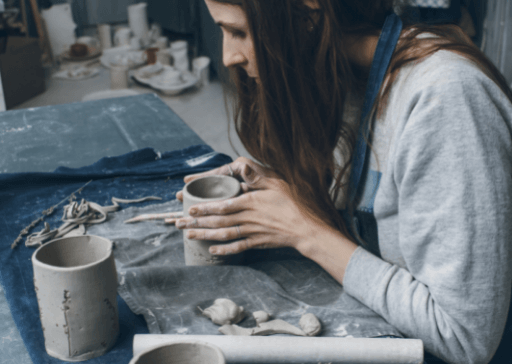 Start by taking a pottery class at a local art center before investing in the materials and equipment to make sure you enjoy it.
If you don't mind getting your hands a little dirty withmodeling clay, this might be the perfect hobby for you.
39. Practicing Photography
Photography is one of those hobbies that has gotten so much easier with the growth of technology.
You can take some stunning photographs just with your smartphone.
But if you want to get more serious about it, consider taking photography lessons and getting yourself a really good camera.
40. Quilting
Quilting was a very common social activity of the past. Quilts were once essential household objects, and women enjoyed the break from demanding physical work to sew quilts.
Quilting is still fun, gratifying, and creative. From choosing the pattern to selecting the fabrics, there are many aspects of quilting that make it uniquely enjoyable.
You'll also need some basic quilting supplies, fabric and a quilt sewing machine to complete your project.
41. Interior Design
Do you have an eye for decorating and creating beautiful spaces? If so, why not make a hobby of it?
You can learn more about design by taking afree online design class或乔ining a local community program.
Use your skills to redecorate your own home or help friends and family create their dream rooms.
Active Hobbies for Women
42. Running

or Jogging

This is one of the easiest, least expensive, and healthiest hobbies for women. All you need is a good pair of running shoes and a place to run.

You can enjoy the great outdoors while listening to music or just enjoying the sounds of nature. Or you can join a running club if you want motivation and socialization as you run.

If you're new to running or haven't run in a while, there are plenty of free running apps to help you start slowly and safely so you can build up to your desired amount of running.
43. Practicing Yoga
Yoga is an ancient system of philosophies, principles, and practices derived from the Vedic tradition of India and the Himalayas, more than 2500 years ago.
今天的练习是一种冥想,relaxation, and clarity of mind. It includes physical poses and stretches that strengthen and invigorate the body and help all physical systems to work properly.
44. Bowling with Friends
Bowling seems like such a throwback to the '50s and '60s, but it is actually an extremely popular hobby. If you haven't bowled since you were a teenager, give it a try again.
It's a really fun group hobby, it's affordable, and anyone can do it. OK, so the shoes are ugly, but that's part of the fun too! You may want to brush up your bowling skills with abook on the fundamentals.
45. Dancing in a Class or Club
Whether you join a ballroom class, practice ballet, or simply go to a club dancing, you'll find so much joy and fun from moving your body to great music.
Dancing is not only a great form of exercise, but also it improves coordination, memory, and flexibility. You don't have to be Ginger Rogers to enjoy dancing. Just get out there and move to the beat!
46. Hiking in Nature
徒步旅行是伟大的运动,它可以减少压力,llows you to connect with nature. You'll encounter a wide variety of plants, birds, and animals along the way, and it's a great activity to enjoy alone or with other people.
You may want to check outThe Ultimate Hiker's Gear Guideso you're fully prepared for your next hike. You can visitTrails.comto find local U.S. trails to hike.
47. Playing Tennis
I tool up tennis as a young adult, and even though I was never great at it, it was one of the most enjoyable hobbies I've ever had.
More Related Articles:
27 Fun Doodles To Draw In Class Or Meetings
40 Of The Best Hobbies For Men
75 Of The Best Hobbies For Couples
Not only is it good exercise (especially playing singles), but it's a great way to socialize, improve hand/eye coordination, and wear cute outfits!
即使你u're not a natural athlete (like I wasn't), don't be intimidated by the game. Just go out and have fun.
48. Rebounding on a Mini Trampoline
Rebounding is one of the most fun, least painful exercises out there — especially for the benefits you get from it. It involves jumping, running, or dancing on astrong mini-trampolinefor a period of time.
Not only does it improve your fitness level, but also it is great for your lymphatic system. It's inexpensive, portable, and easy.
49. Self-Defense Class
A self-defense class is lots of fun and great exercise — and it can help you protect yourself if you're ever approached by a questionable stranger.
You'll learn how to spot a potential attacker, how to defuse a dangerous situation, and some kicking and punching moves to fight off an attacker.
Cooking and Food-Related Hobbies for Women
50. Indoor Herb Growing
If you enjoy cooking and creating unique and delicious meals all year round, then pick up the hobby of indoor herb growing.
You can learn about a variety of herbs and how they are used to season your meals while enjoying the satisfaction of watching your plants grow in the comfort of your home.
Once the weather is warm, you can transplant your herbs to a window box or outdoor garden. AnLED grow-light kitis a great way to get started without too much time and effort.
51. Canning Fruits or Vegetables
Think about all of the fruits and veggies you end up throwing away because you forget about them or don't eat them for some reason.
Canning stops the natural spoilage and allows you to keep and foods much longer. It's easy, inexpensive, and so rewarding to see your pantry lined up with delicious items you've canned yourself.
52. Bread Making

from Scratch

Ahh, the smell of fresh, warm bread. Your family will love you all the more if you take up the hobby of bread making.

Sure, you can easily buy bread from the supermarket, but why not spice up your bread with a dose of love and homemade joy by making it yourself.

You can find hundreds of tutorials online to help you learn the skills of making any kind of bread that suits you.
53. Baking Homemade Treats
Everyone loves home-baked treats as well as the social aspect of eating beautifully and lovingly prepared cakes, pies, cupcakes, tarts, and other sweet and savory treats.
Baking is satisfying, and relaxing and involves a bit of creativity and personal flair. If you've ever watchedThe Great British Baking Show, you know there are as many styles of baking as there are bakers!
There's nothing like hearing the "oohs" and "ahhs" from people savoring the treats you just prepared. Invite your friends and family over for a dessert party and share your new hobby with those who appreciate your efforts.
54. Wine Tasting
If you enjoy good wines, there are so many opportunities to learn about different varieties of wine.
Your local wine store probably offers wine tastings, or you could host your own wine tasting and asks guests to bring a different bottle.
There are wine classes you can take, local wine events, and even wine-tasting cruises.
Hobbies for Women Over 50
55. Organizing and Decluttering
If you're a naturally organized person, or you'd like to be, why not put your abilities to good use?
Use your hobby time to get your home or someone else's in tip-top shape by clearing out clutter, streamlining your stuff, and neatly organizing what's left.
You might start with the international bestselling book,The Life-Changing Magic of Tidying Up, by Marie Kondo for detailed instructions on decluttering and organizing every room of your house.
56. Mindfulness and Meditation Practices
Mindful meditationis more than a hobby — it's a practice. And the practice of meditation is deeply satisfying and calming.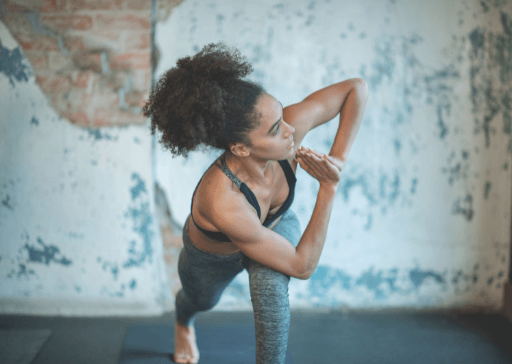 Mindful meditation has been proven to reduce stress and anxiety, improve depression, and help prevent a variety of diseases.
It gives you a respite from the demands of your day and helps you focus better throughout your day. You can read more about mindfulness in myWall Street Journal Bestselling book:10-Minute Mindfulness.
57. Making Vision Boards
If you want to improve any area of your life, one of the best places to start is by visualizing the outcome you want to achieve. A tangible tool to help you do that is a vision board.
Avision board can be made online, or you can craft one using poster board, images and words (from magazines or elsewhere), and other decor. You can make a unique vision board for your career goals, travel dreams, relationship needs, or any other self-improvement goal.
Once you knowhow to make a vision board,you can dedicate a month to a particular theme and focus on that theme as you're working toward the goal.
Or you can have a vision board party and get your friends involved in your new hobby.
58. Managing Your Money
We all have to pay the bills and balance our checkbooks. But have you considered making a hobby of managing your money and preparing for retirement?
Paying more attention to where your money goes, where you are overspending, how you are saving, and what you are investing in can be rewarding and profitable.
Learn to develop financial goals, set up a budget, and become debt-free by setting aside time each week to work on managing your money. There are plenty of blogs and books online that can get you started.
59. Writing Your Legacy
Writing, whether it's a novel or just in your journal, is an amazingsenior hobbythat is so good for you.
Writing down your thoughts and feelings is a wonderful way to relieve stress and worry. Writing also stimulates creativity, imagination, and focus.
Through writing, you can improve your vocabulary, clarify your ideas, and improve your general communication skills.
You don't have to be a Pulitzer Prize winner to start writing. Just write and enjoy the process.
60.学习在线课程
You can take a course on just about anything these days through online learning platforms likeUdemy,Teachable, and Coursera.
There are dozens of self-improvement courses on building confidence, improving your relationships, money management, brain training, meditation, and so much more.
Develop a hobby around learning something new every month and expanding yourself and your abilities.
Cool Hobbies for Women
61. Songwriting
Do you have the soul of a poet and an ear for music? Why don't you try your hand at writing songs?
Writing songs as a hobby can be relaxing and fun, allowing you to express yourself as you grow more confident in your efforts. And there are plenty ofsongwriting classesonline if you want to learn some professional tips.
If you don't play an instrument, find a friend who does that might collaborate with you. Then perform your songs for friends, at your place of worship, or at special events.
62. Tutoring English
You won't have to look far to find people who need help speaking and writing in English. Many volunteer organizations can match non-English speaking people with native speakers who tutor.
Teaching English is a rewarding hobby that allows you to give back to your community and help someone feel more confident in their speaking and writing skills. You can even combine travel with teaching English in foreign countries if that appeals to you.
63. Becoming a Tik Tok Influencer
On this social media platform, you can upload short videos with content that your followers will find compelling, funny, endearing, or informative. The more your content is shared, the more of an influencer you become.
With a large enough group of followers, you can monetize your Tik Tok platform with advertising, brand endorsements, selling merchandise, and many other strategies.
64. Learning to Make and Sell NFTs
NFTs or non-fungible tokens are a type of digital certificate created on a blockchain network that represents some kind of digital item. You can sell your digital products and potentially make a substantial profit.
Some of the most common digital items sold as NFTs include digital art, sports collectibles, In-game assets (such as digital land, skins, and characters), music, and memes.
If you don't know much about NFTs, you'll find manyarticlesand courses to give you the step-by-step on how to get started.
65. Become a Wine Connoisseur
If you love discovering new wines and learning about them, consider a hobby as a wine enthusiast or connoisseur.
Take a wine class to learn about different varietals and how to drink wine to appreciate it fully. Go to local wine tastings to develop your palette, or host your own wine tasting with friends and invite a wine expert to share information on the wines you serve.
66. Training Service Dogs
Service dogs provide a vital role for people with various disabilities, helping them perform daily activities as well as providing mobility, hearing, vision, physical, and psychiatric support.
If you love animals and want a rewarding hobby that makes a massive difference in the lives of those with disabilities, look into becoming a service dog trainer.
There aretraining programsacross the country to teach you the skills and help you get started with learning the skills to train a service dog.
67. Writing Children's Books
你爱写但是吗don't have time to craft a novel? Try your hand atwriting children's bookswhich are usually short, fun, and a great way to try your hand at book writing.
If you're artistic, you can design your own illustrations — or partner with an artist or graphic designer to create the look you want for your story. You can write children's books for fun or try self-publishing some of your works and sell them through Amazon or other bookstores.
Did you find any hobbies that you liked?
I hope you found several ideas in this list of hobbies for women that appeal to you and inspire you to commit to a new hobby.
You might feel resistant to learning something new, but push yourself out of your comfort zone and away from your digital devices and enjoy the thrill of accomplishment and novelty.These female hobbies will broaden your horizons and make you a more interesting person.
You have nothing to prove but so much to gain by stretching yourself and exploring new interests. You'll discover that you have far more abilities than you ever gave yourself credit for.
May your creativity and motivation inspire everything you do today and every day.